Digital Entertainment Conference Online 2022Advancing Digital Game and Interactive Narrative Research in the World Beyond COVID-19
Digital Entertainment Conference Online 2022Advancing Digital Game and Interactive Narrative Research in the World Beyond COVID-19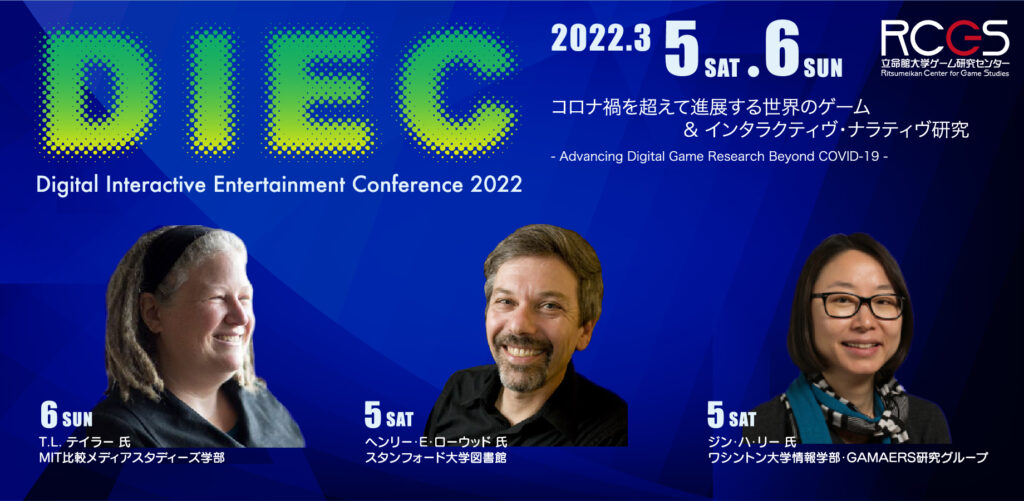 Ritsumeikan Center for Game Studies will hold an online conference on March 5th and 6th(JST) with Henry Lowood of Stanford University Libraries, Jin Ha Lee of the University of Washington, and T.L. Taylor of MIT to discuss the frontiers of game research beyond COVID-19.
For those who are intersted in attending, please register !
https://zoom.us/webinar/register/WN_vNRMUao_QSSpn57hqFcUwA
During the pandemic, digital games played a pivotal role in the mediated socialization of people forced to stay at home. While the importance of digital games is now in the spotlight for the general public, activities to preserve them as cultural assets, and scrutinize them from various academic disciplines has gained in popularity globally over several decades. Ritsumeikan University has been involved in game preservation activities and academic game research since 1998. Having a rich background of academic research in digital games, we have decided to hold a two-day online conference that will showcase the results of our research with various partners from Japan and abroad.
In the opening session of this conference, we will focus on the game citation. In recent years, game studies scholarship has started considering citation practices and the various issues involved in citing games accurately. Based on the current state of game citation and the specific issues involved in citing games, this session aims to open up a dialogue about game citation practices in Japan.
Following the opening session, we will hear from Dr. Henry Lowood of the Stanford Libraries and Associate Professor Jin Ha Lee of the University of Washington. They are leading digital videogame preservation endeavors in North America. We will also invite Professor Kazuma Yoshimura of Kyoto Seika University to share his activities in the Kyoto International Manga Museum. Then, we will discuss how Kyoto can cooperate with academics and practitioners in North America to seek ways to collaborate in the field of digital games and media arts while also including manga and animation.
 For the second day, we will shift our focus to the future of interactive narrative. The interactive narrative research on digital games has expanded its field and is now being applied to theme parks and other location entertainment. This kind of user experience in attractions with specific themes is based on "Highly Curated Commercial Environment," and the studying this field continues to progresses. Professor T.L. Taylor of the Massachusetts Institute of Technology will speak on this topic. She has been researching this topic as the next area after cyberspace and e-sports. Tentative research results for comparative studies regarding theme park regular participants will also be presented.
 This is an excellent opportunity to learn more about the research on game preservation and theme park experience studies in North America. If you are interested, please register below by March 4 (FRI) JST 17:00
https://zoom.us/webinar/register/WN_vNRMUao_QSSpn57hqFcUwA
Program
Event name: Digital Interactive Entertainment Conference 2022
     Global Game & Interactive Narrative Research Going Forward Beyond COVID-19
Period: March 5, 2022 (8:30am – 12:30pm JST) March 6 (9:30am-12:30pm JST)
Speakers:
 (Overseas Invitees)
T.L. Taylor (Massachusetts Institute of Technology),Henry Lowood (Stanford University)
Jin Ha Lee (University of Washington), Stefano Gualeni (The University of Malta),
Paul Martin (The University of Nottingham Ningbo China), Eric Kaltman(California State University Channel Islands), Kazuma Yoshimura (Kyoto Seika University)
 (Ritsumeikan Center for Game Studies, Ritsumeikan University)
Martin Roth,Kazufumi Fukuda, Akito Inoue,Yasuo Kawasaki, Koichi Hosoi
Akinori Nakamura (Overall Moderator)
Conference Schedule
DAY ONE (March 5)
8:30 – 9:30 Panel Discussion: Game Citation -Why Digital Game Citation Matters

Stefano Gualeni,Paul Martin, Eric Kaltman, Martin Roth, Kazufumi Fukuda

9:30 – 10:10 Keynote 1 Digital Game Preservation and its Development During Covid-19
10:15 – 10:55 Keynote 2 Preserving Game Development Artifacts and Its implication during post-Covid-19
11:00 – 12:30 Panel Discussion: What role can KYOTO play in the preservation of digital games post Covid-19 -Future Perspective  on possible collaborative work on Transmedia assets on pop-culture (Game and Manga)

Kazuma Yoshimura, Henry Lowood, Jin He Lee, Koichi Hosoi,
Akinori Nakamura (Moderator)
DAY TWO: (March 6)
9:30 – 10:10 "Playing Disney: Experience and Expression in the Land of Curation
10:15 – 10:55 The Theme Park Experience in Japan: A Progress Report on Semi-Structured Interviews
11:00 – 12:30 Panel Discussion: Uncharted territory: Play culture and its prospects explored in theme parks

T.L. Taylor, Yasuo Kawasaki, Masaharu Miyawaki, Martin Roth,
Akinori Nakamura (Moderator)