GigaBash announces a new Trailer featuring long-anticipated singleplayer Story Mode!
GigaBash announces a new Trailer featuring long-anticipated singleplayer Story Mode!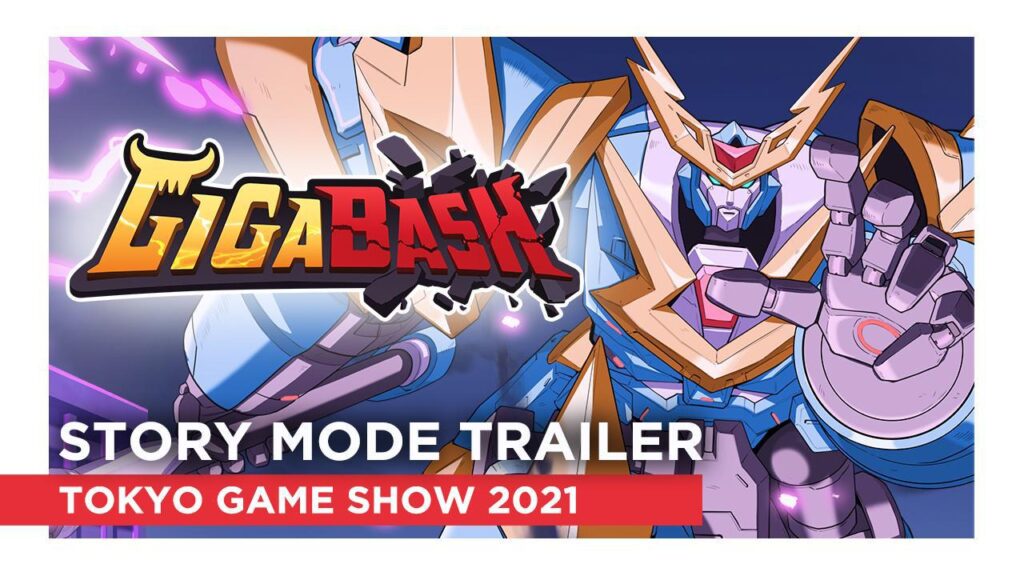 Sep 30th, 2021 – Selangor, Malaysia – It's time for Titans to clash this TOKYO GAME SHOW 2021. GigaBash is premiering a fresh new trailer, revealing unprecedented cutscenes,never-before-seen NPCs, and gameplay footage from their long-anticipated Story Mode which has secretly been in development up until now.
Watch the GigaBash Story Mode Trailer here: https://youtu.be/UyLbWD-X5bs
GigaBash's Story Mode features 4 unique campaigns. Each campaign is centered around a character's backstory, life journey, and quirky personality. These playable character campaigns are Gorogong, Pipijuras, Woolley, and Thundatross. All of them are designed to be short-and-sweet while being cohesively tied to each other within the GigaBash universe.
Story Mode strives to offer a linear and narrative-driven singleplayer experience that serves as an extension to the core game mode of GigaBash, which is a mayhem-inspiring 4-player arena brawler. Other than a fun story, it also provides hand-crafted scenarios and bonus challenges to help players master the characters they are playing by drawing inspiration from the base game's characters, maps, and mechanics. Story Mode also features story-exclusive maps, more soundtracks, unique NPCs, achievements, and a whole lot of unlockable world-building lore.
"We hope each story brings a different flavor to the game," said GigaBash co-director, Mel Law. "We wanted to expand on GigaBash's world and its colorful characters while offering more avenues of enjoyment for our fans."
The base game is confirmed to come together with Story Mode and is set for release in early 2022 on PC and PlayStation®4. GigaBash is now available for Wishlist on Steam and Epic Games Store.
About GigaBash:
GigaBash combines the chaos and creativity of titles like Power Stone, Super Smash Bros, and War of the Monsters with the jaw-dropping scale of classic kaiju movies. Choose from a roster of unique characters of Titans and Heroes, each with their own skills and playstyle! Trade fistful blows with up to 4-players, summon lightning from the heavens, throw office buildings at your friends, or roll a whole district (and your enemies) into a single massive snowball. Wreak enough havoc and you'll evolve into your final form, the terrifyingly titanic S-Class.
Choose from a wide variety of maps and locales as your battleground; each of them has its own unique map mechanic. Fight your foes in densely populated cityscapes, a holiday beach resort next to an active volcano, an industrial city in the middle of Siberia, and more! Got destroyed by another player in the game? Don't put down your controller just yet! Each locale has its own unique post-death mechanic. Stay in the game and fire an orbital cannon or drop a meteor to exact revenge on the enemy responsible for your early defeat.
Learn more about the game here:
Website | Discord | YouTube | Twitter | Facebook | Instagram | Twitch | Newsletter | TikTok
About Passion Republic Games
Passion Republic Games is a Malaysian-based team of passionate creators bonded together with a decade's experience in providing AAA quality assets for top developers and publishers worldwide through outsourcing services. We love games and how it unites a wide diversity of people towards a fun-filled gaming session. We believe through our journey in game development and sharing the knowledge gained from it, we can continuously spark inspiration and hope for greater community growth.
Visit us here: Website | Twitter | Facebook | Instagram
Press Contact:
© 2019-2021 Passionrepublic Games All Rights Reserved. GigaBash is a trademark of Passionrepublic Games Sdn Bhd in Malaysia and other countries.